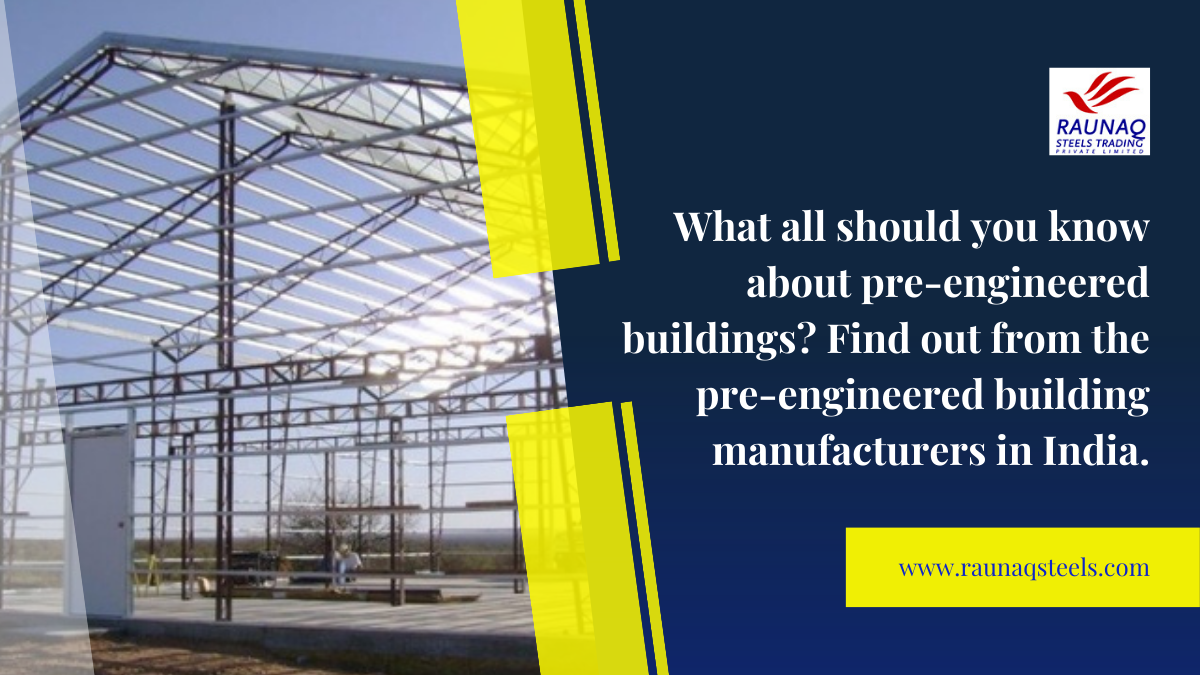 What All Should You Know About Pre-Engineered Buildings? Find Out From The Pre- Engineered Building Manufacturers In India
July 10, 2023
Prefabricated buildings, also known as prefabs are buildings that are constructed within  closed boundaries and under controlled conditions, in a manufacturing plant. These can be assembled easily with the help of a few screws after they reach the location where they are  supposed to be built.  These buildings use the simplest way of manufacturing buildings, are quite pocket friendly,  and can be reused if required. Most locations like single-detached buildings, apartments,  offices, medical camps, etc.; are the most common applications of pre-engineered buildings.
Learn about the benefits of prefabricated buildings from pre-engineered building  manufacturers in India
These unique buildings are highly beneficial in several ways. Not only do the pre-engineered building manufacturers in India find them perfect for construction but also can  resist uncontrollable conditions. Besides this, there are many other benefits of PEBs. Let's  take a look at them.
1.The easy on-site construction process
One of the biggest benefits of manufacturing PEBs is that these can be formed almost  instantly. There are defined operational sequences that make the workers on site, much more  effective. Thus, most of the operations can be done very fast which is also an advantage of  mild steel.   Forming the foundation of the building is one of the easiest things in this construction. The  finished structures like the walls and the floors are set as per the plan. They use some of the  best steel for construction in Tamil Nadu. Unlike traditional buildings, the PEBs take a  minimum of 6-8 weeks to be fully completed.
2.Better Quality and Consistency
A very important factor of PEBs is that they are of good quality. Some local inspectors visit  the site at equal intervals to check whether all the areas are perfect and in good condition. In  case there is any sort of damage in the building, during or after the construction, strict  inspection will be conducted to check the quality of all the products that are being used in the  manufacturing process.
3.Environment friendly
For any construction, weather is a very important factor. While the concrete buildings will  wear off after a few years, the pre-fabricated steel buildings will last longer. These are  made from materials that are not only resistant to the brutalities of the environment but also  do not disrupt the workflow.
4.Effectiveness and time-saving
One of the very important features of prefabricated buildings, according to the pre-engineered  building manufacturers in India is that they are highly effective. Fixing the pieces of this  construction does not take much time. But, the outcome of this construction is mesmerizing. 
Each of the structures of this construction uses MS plates that can be designed at one's  convenience. This can be considered one of the most important benefits of pre-fabricated  buildings.
Challenges that are faced by pre-fabricated buildings
This concept of prefabricated buildings did not arrive in recent years. It has been prevailing  long before that after William the Conqueror invaded England. Over the years, these  prefabricated buildings have adapted to the changes and improved most extraordinarily.
In total, there are two different types of prefabrication namely; volumetric or modular and  panelized. Either of these uses timber, steel, concrete, and fiberglass, along with a few other  materials. Let's get a brief idea about them.  Steel types, like the cold rolled steel sheet are usually made of light gauge galvanized steel. 
∙Timber prefabricated buildings are older than any traditional buildings and have  timber studs and sheathing.
∙Panel buildings consist of fewer studs and are bonded together through a rigid  insulation core and outer sheathing that enhances the strength.
∙Fiberglass for forming the walls and roofs.
Types of Prefabricated Buildings
Here is a list of the different types of prefabricated buildings by the pre-engineered building  manufacturers in India that you should know of before you decide on choosing one.
1.Fiberglass Prefabricated Buildings
These are lightweight mild steel products, durable and made up of mold and rust-free  material. As a result, there is not much damage to the other parts of the building by moisture  formation. Apart from this, they are also resistant to wind, heat, and other cold effects.
2.Quonset Huts
These are made using steel alloys and are also known as arch steel buildings due to their  dome shape. These are quite easy to maintain and can withstand any sort of climatic  condition, including seismic waves. Back in the day, this construction was used to provide  shelter to thousands of people.
3.Temporary Prefabricated Buildings
These buildings can be used both indoors and outdoors and have a panel-type construction.  These frames use the best TMT bars and are made out of aluminium and steel. Sometimes,  other materials like fiberglass, PVC, and even glass are also used for this manufacturing. 
These are the most important parts that every individual should know before choosing a PEB  building.
ALSO, YOU CAN READ OUR NEW UPDATES