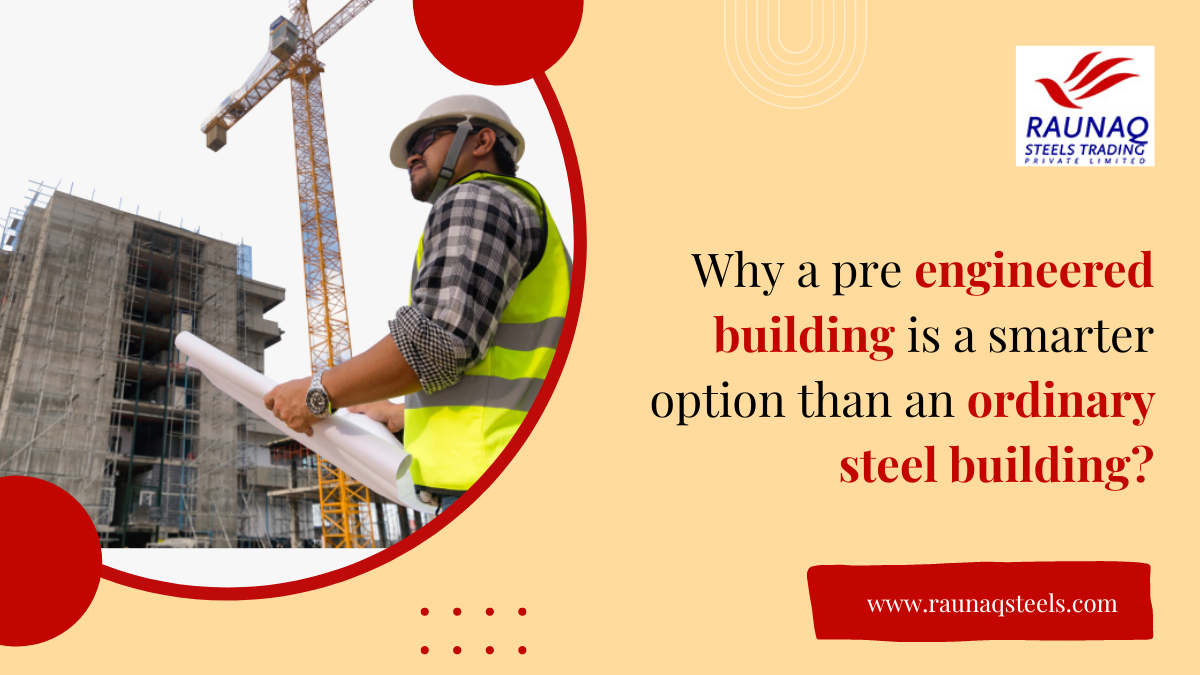 Why A Pre-Engineered Building Is A Smarter Option Than An Ordinary Steel Building?
December 12, 2022
Pre-engineered or PEBs are structures that are pre-manufactured at factories. The biggest benefit of such buildings is that they can be manufactured exactly according to the size and shape required. Once done, the entire project is then transported to the site, assembled and bolted together. For structures like stations, canopies, modern buildings and warehouses, this construction is perfect.
There are many pre-engineered building manufacturers in India who develop some of the finest buildings. These are revolutionized concept and uses mostly structural steel for its production. These products include:
Primary frames: These are made up of trusses or castellated beams and are built-up I-shaped steel members.

Roof and wall panels: These are mostly curtain walls and are made up of glass and roll-formed steel sheets.

Secondary structural elements: These are cold-formed purlin members and come in different shapes.
How are pre-engineered building manufacturers in India in more demand than ordinary steel builders?
The process of developing a conventional steel building is messy and includes complex design, laying foundation right from scratch, lengthy construction process and is way costlier. The PEB on the other hand is easy to make, has an already created design, is developed in factories and delivered onsite.
Here are the basic differences that prove why PEBs are better than ordinary steel buildings.
Structural weight: Pre-engineered building manufacturers in India are well-though before production and are much more efficient than steel buildings made by conventional steel builders. They use a lot lesser steel (around 30% less) than ordinary steel buildings.
The ordinary steel buildings use steel rods manufactured from steel dealers in India. This makes the construction a lot heavier and the process lengthy.
Design: PEBs are designed using the latest technology and software along with the tending architectural techniques. As a result, the product looks much more attractive and develops innovative buildings.
The ordinary buildings on the other hand do not have much scope of innovation. They use the readymade products available from the best steel companies in India. Thus, making the structure attractive is a bit difficult. Although they bring about a little change in the traditional structure to make it look new.
Construction period: One of the most important differences between the pre-engineered building manufactures in India and ordinary steel builders is the timing required for construction. While PEBs take only 6-8 weeks for manufacturing, the ordinary steel buildings take 20-26 weeks or even more to complete the construction.

Foundation: The PEBs are lightweight and strong while ordinary steel buildings have a very foundation. The time required by the PEBs for connecting the bolts is faster. However, ordinary steel builders use steel from the best steel companies in India to join the connections which in turn increases the time for the erection of the building.

Erection time and cost: The erection time and cost for PEBs is less while ordinary steel buildings are 20% more expensive than PEBs. Also the machinery required for preparing the PEBs is much less while the ordinary steel buildings require more heavy machinery which slows down the erection process.

Seismic Resistance: The frames used in PEBs are flexible and offers resistance from seismic forces. The ordinary steel buildings take frames from reputed steel dealers in India. But, these frames are unable to protect the structure from seismic resistance.

Future expansion: Expanding the building for PEBs is easy. But, for ordinary structures, it is very difficult. There is lesser scope of innovation in case of these buildings compared to PEBs.

Safety and Responsibility: Pre-engineered building manufacturers in India are responsible for the safety and security of the structure. They take good care throughout the working of the project. Unfortunately, people cannot always completely rely on ordinary steel builders for their construction.
In current time, the PEBs are gaining a lot of popularity due to their increased use in many structures like factories, living shelters, auditoriums, supermarkets, office buildings, schools, community centres and lot more. There has also been a sudden increase in the demand of PEBs in the last two years in India. Thus, if a person wishes to develop a structure like this, he/she should go through the major differences between the PEB and the ordinary steel building and then decide for oneself.