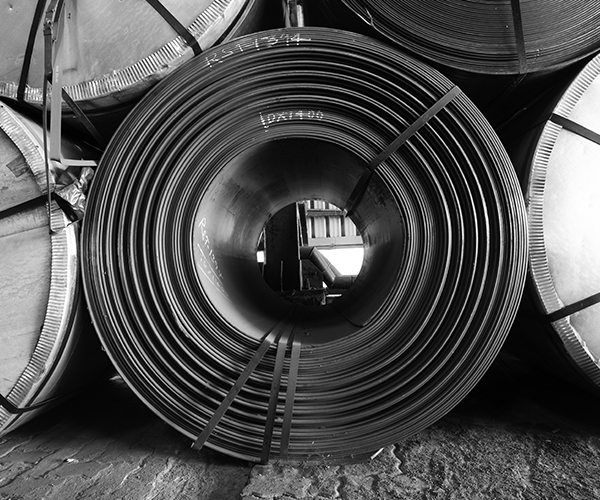 Cold Rolled
There are 3 types of Cold Rolled Steel :
Cold Rolled Steel Coils (CR Coils)
Cold Rolled (CR) coils are high grade steel products characterized by high strength and uniform thickness, with low ductability. Cold rolled coils are formed by cooling the hot rolled pickled product (cold process of steel) and passing them through a cold reducing mill to reduce the thickness and make the surface finish superior. These types of CR coils are ideal for automobiles – exposed and unexposed parts, power plants, industrial goods, and so on.
Cold Rolled Steel Plate (CR Plates)
Cold Rolled (CR) Steel Plate is a flat steel product with fine quality surface finish and tighter tolerance. Such CR plates are manufactured by passing hot rolled steel through cold reduction mills to reduce thickness, followed by reheating at high temperatures (annealing). This combined process of cold rolling along with annealing, gives the resulting cold rolled plate high impact strength and superior concentricity, which can be put to good use in automobiles, electrical appliances, etc.
Cold Rolled Steel Sheets (CR Sheets)
Cold Rolled (CR) Steel Sheets are fine grade steel products that possess superior surface finish and closer dimensional tolerance. These CR sheets are produced by passing hot rolled pickled steel product through a cold reducing mill (rolls). This results in CR steel sheets that have the uniform thickness and high impact strength required for use in electrical appliances, automobiles, and so on. Cold rolled sheets are smaller in size and exhibit less formability than hot rolled ones.
Applications
Auto parts
General engineering and fabrication
Precision tubes
White goods
Drum and Barrel
Specifications
| | |
| --- | --- |
| Thickness (mm) | Width (mm) |
| 0.27, 0.30, 0.35 | 900, 905, 910, 914, 920 |
| 0.40, 0.45 | 900, 905, 910, 914, 920, 1000, 1005, 1010, 1020 |
| 0.5 | 900, 905, 910, 914, 920, 1000, 1005, 1010, 1020, 1105, 1120 |
| 0.55, 0.58 | 900, 905, 910, 914, 920, 1000, 1005, 1010, 1020, 1105 |
| 0.60, | 900, 905, 910, 914, 920, 1000, 1005, 1010, 1020, 1105, 1120, 1250, 1270 |
| 0.63 | 900, 905, 910, 914, 920, 1000, 1005, 1010, 1020, 1105, 1120, 1219, 1250, 1270 |
| 0.70, | 900, 905, 910, 914, 920, 1000, 1005, 1010, 1020, 1105, 1219, 1250, 1270 |
| 0.8,0.9 | 900, 914, 920, 1000, 1020, 1120, 1219, 1250, 1270, 1420 |
| 0.95 | 900, 914, 920, 1000, 1020, 1120, 1219, 1250, 1270 |
| 1.00, | 900, 914, 920, 1000, 1020, 1120, 1219, 1250, 1270, 1320, 1420, 1520, 1580 |
| 1.25, 1.40 | 900, 914, 920, 1000, 1020, 1120, 1219, 1250, 1270, 1320, 1420, 1520, 1580, 1620 |
| 1.5, 1.6, 1.85 | 900, 914, 920, 1000, 1020, 1120, 1219, 1250, 1270, 1320, 1420, 1520, 1580, 1620 |
| 1.90, 2.00 | 900, 914, 920, 1020, 1120, 1219, 1250, 1270, 1320, 1420, 1520, 1580, 1620 |