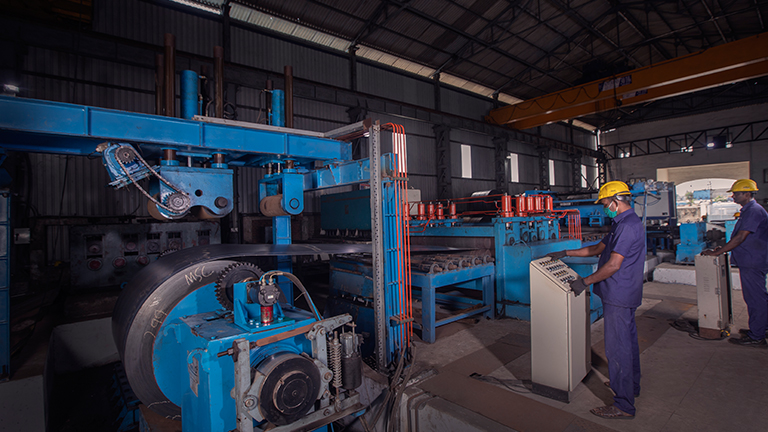 Decoiling
The process of decoiling involves unrolling a bigger steel coil and flattening it for the purpose of cutting it into different-sized sheets/plates. The steel sheets/plates are cut as per specific requirements of the customers. The decoiling procedure enables us to deliver mild steel sheets in different non-standard sizes to comply with the customer's request.
Decoiling unit location
The decoiling unit is in Manali, the heart of the steel sector in Chennai. The unit address is No.1, Sathya Moorthy Nagar, Manali Express Road, Chennai 600 019.
Infrastructure
The unit is spacious and has a constructed shed that spans 30000 sq ft. along with a sprawling area of 30000 sq ft. This unit was built to provide decoiling and shearing services.
At the unit, we have the state-of-the-art, automatic, imported as well as indigenous-made machines, that are used for decoiling and shearing. The machines are capable of handling materials with thicknesses ranging from 1.6 mm to 20 mm and width up to 2500 mm.
The unit also has four E.O.T cranes of various capacities ranging from 20 MT to 35 MT and a weighbridge with the capacity of 120 MT. There is a generator with a capacity of 500 KVA,  that provides adequate power backup. We use the updated version of the ERP system at this plant that is run by trained operators.
Manpower
The plant is run by a dynamic management team that is well-versed in the latest technological applications. Our team comprising skilled laborers, supervisors, and managers handles every aspect of the production with efficiency.