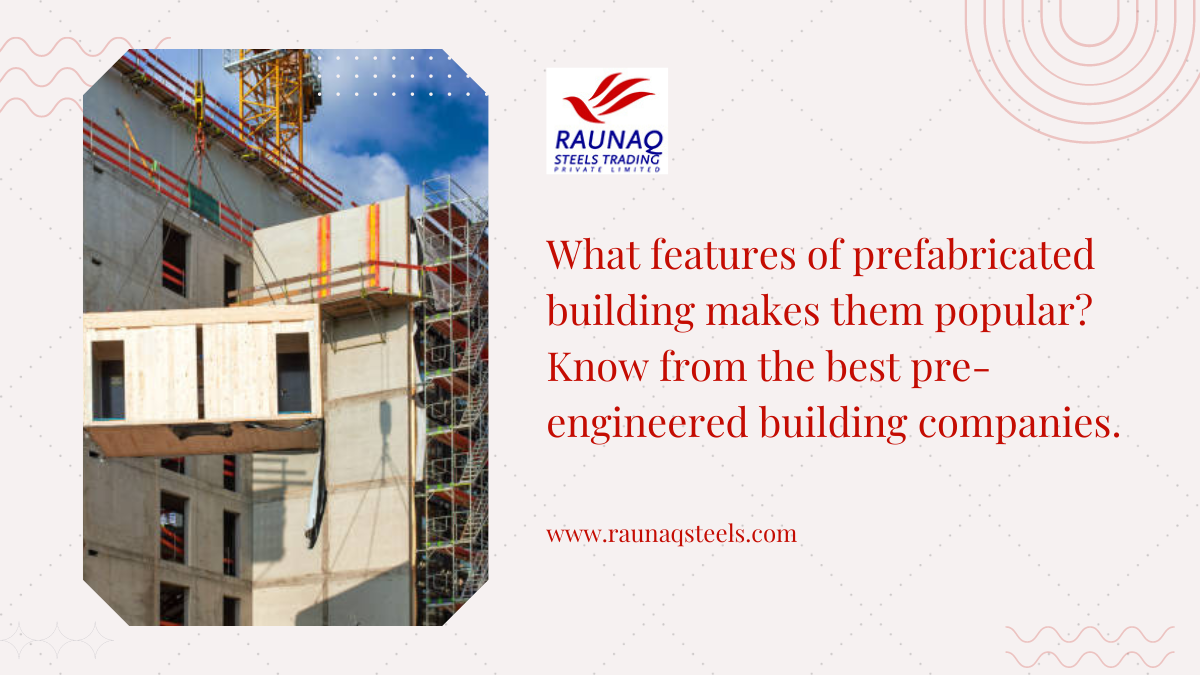 What Features Of Prefabricated Building Makes Them Popular? Know From The Best Pre-Engineered Building Companies
July 13, 2023
Pre-engineered buildings also known as PEBs are structures that are usually fabricated off-site and assembled on-site. These have recently attracted the market, resulting in a growing demand among people who are building their homes. Even though these buildings are cost-efficient and low maintenance, they use premium products for carrying out the best results.
These are very low-maintenance and can be prepared very quickly. This is due to its architectural flexibility and versatility. The operating costs of the buildings are also very less.  Let's get a deeper insight into the different features of PEBs.
Top 5 features of prefabricated buildings that makes them popular according to the pre-engineered building companies
There are several properties of prefabricated buildings that make them an ideal product. The pre-engineered building companies divide this building procedure into three different categories, namely:
Formed an "I" to shape the primary structural framing members (mostly columns and rafters)

Built a Cold-formed "Z" and "C" for shaping the secondary structural members like the roof purlins, wall girts, and eave struts

Developing Roll-formed sheeting profiles for the roof and wall cladding.
These pre-engineered building manufacturers use some of the finest structural components which are later assembled on the spot after being produced by the factories. Some transports carry these structures to their respective location where all the parts are joined together, forming the structure, just like joining in the pieces of a puzzle.
Over the last few years, there has developed some of the finest prefabricated steel buildings. These buildings have led to a growing craze for new ones. Here are some of the features that make them so special and demanding.
These are highly affordable
One of the biggest and most important features of these buildings is that they are highly affordable. There is the addition of cold and hot-rolled sheets which are meant for providing solitary skin sheets. Such an addition is made to the building to ensure it has an envelope system where there are no chances of impermeability.
These buildings are highly reliable, have optimal weight and price, and fit perfectly the desire of the customers.
These can be easily constructed
Another big feature of these PEBs is that they can serve the purpose of every building. The pre-engineered building companies can expand the maximum elevation of these buildings up to 25-30 meters. As a result, these become ideal locations as workspaces, indoor partitions, and much more.
One of the best things about these buildings is that they are waterproof, use steel bars for construction, and come in quite an affordable range. Also, they are built in just half the time as the traditional buildings which is a great advantage for people.
These can be accessorized as desired
Pre-engineered building companies produce such buildings that can be customized as per the choice of the individual. These can consist of mezzanine floors, and indoor partitions and can also be used for filler strips and trims and mastic grains.
For improving the functionality of the buildings, different sorts of eye-catching applications are attached to the interiors of the house. This also helps to set up both the standard structures as well as the low-rise structures.
Provides more flexibility and expansion choices
The most common feature of PEBs is that they have an affordable design. The roofing of these structures uses MS chequered plate and might be flat or sloped while the floors can be of the desired shape. For single-storied houses, these are the most reliable ones.
Apart from this, the PEBs can be developed in any geographical location, be it rough and uneven highs or areas with extreme temperatures. The materials that are used to make these structures are capable of withstanding any sort of environmental condition. This is one of the benefits of mild steel products.
These can be easily maintained
The pre-fabricated buildings are made from the best TMT bars and materials that can be easily cleaned. These are resistant to corrosion and are away from regular repairs and maintenance. This makes it a highly useful material, highly durable, and contributes to reducing environmental impact and operational carbon footprint.
These were some of the most important features of pre-engineered buildings. However, it is essential to understand both the pros and cons of these buildings before you choose them.
LSO, YOU CAN READ OUR NEW UPDATES