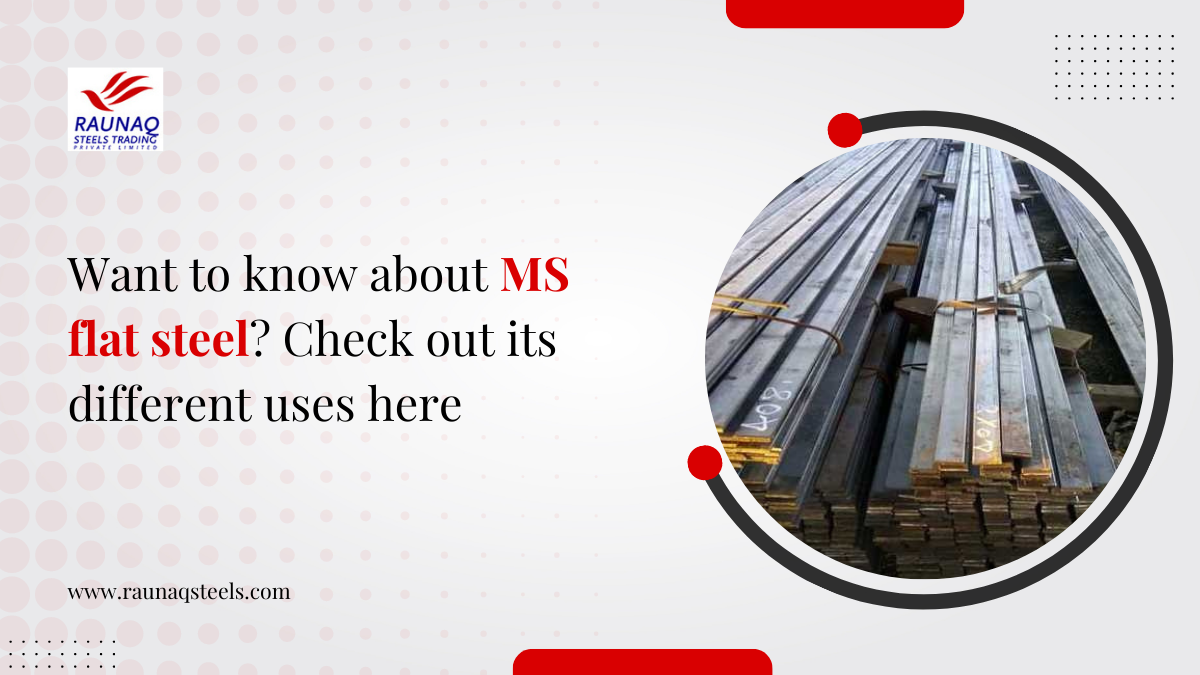 Want To Know About MS Flat Steel? Check Out Its Different Uses Here
May 7, 2023
Compared to different steel types, MS flat steel is used for setting the outline for buildings. It is a very important material used for several applications. In recent times, this steel has developed a few other types like MS steel bars, MS steel flats, etc. Each of these types is used in different applications, due to their shape and sizes.
While the MS bars are used for fencing and automobiles, the MS flats are used to support the edges of a construction. These are highly flexible and can take the shape of different applications as and when necessary.
What do you mean by MS flat steel? Learn from the best steel companies in India
Most manufacturers of the best steel companies in India use mild steel flats for different construction processes. There are not only capable of withstanding seismic tremors but are also very cost-effective, compared to the variety of applications they are used in.
The steel dealers in India provide this steel for bolting and riveting. It is one of the most extensively used materials in the field construction. The chemical composition of this steel includes carbon (0.23%), manganese (1.50%), silicon (0.40%), and  sulphur and phosphorous (0.045%).  Besides this, it also has a tolerance of +0.05 to + 0. 005. The fabrication of this steel type allows it to be a greater part of several industries.
Besides all this, the MS flat steel in Chennai is found in different applications also due to its straightness, improved machining, and superior dimensional tolerance.
Learn about the different uses of MS flat steel in Chennai
Having such features makes it one of the ideal steel types. Not only is the steel durable and strong but also has a reputation for being flexible, recyclable, and aesthetically pleasing. All these features make it an ideal material to be used in the construction of several items.
Let's learn about the various steel types from the best steel companies in India.
Usage in the construction and fabrication industry
The strength and flexibility of MS flat steel make it an ideal material for being used in the construction process. It provides external support to the outer part of the buildings. This is a reason why they are in so much demand among steel dealers in India. Besides this, they are also used in the manufacturing and construction industry.
Items like doors and window frames, and equipment for cutting, blending, and wielding; all are made from this steel type. The prime reason for being used in a large variety of industries is due to the existing carbon content. The lower the carbon content, the more flexible is the material. Thus, one can easily understand why Mild steel flats can be transformed into any shape or size.
Supporting the shipbuilding industry
The flexibility of the MS flat steel in Chennai is put to great use when they are used in the construction of ships. These can undergo extensive heat, weather, and other natural changes without any sort of breakage. Thus, there can be no confusion regarding their usage in the formation of hulls and decks of ships. The prime reason for adding this steel type to the structure is to reinforce it.
Automobile industry
These are highly efficient, especially while cutting out pieces for automobiles, truck trailers, transport bodies, etc. The dimensional tolerance makes them ideal for machinery production and fabrication. Besides this, it is also used for making body panels, chassis, and other items for cars.
Energy application
This might come as a surprise but the best steel companies in India provide MS flat steel in the power industry. It is even used by manufacturers to produce tanks for storing liquids and gases. One can even find them being used in the electronic industry for producing electrical appliances like refrigerators, washing machines, and microwaves due to their high tensile strength, non-corrosiveness, and excellent durability.
It is pretty much clear how useful an MS flat steel can be. With time, it is slowly taking its place in the agricultural industry as well for producing plows and cultivators and also for making the legs and frames of furniture.  Ensure that you look for reliable suppliers for providing the best quality mild steel flats.
ALSO, YOU CAN READ OUR NEW UPDATES