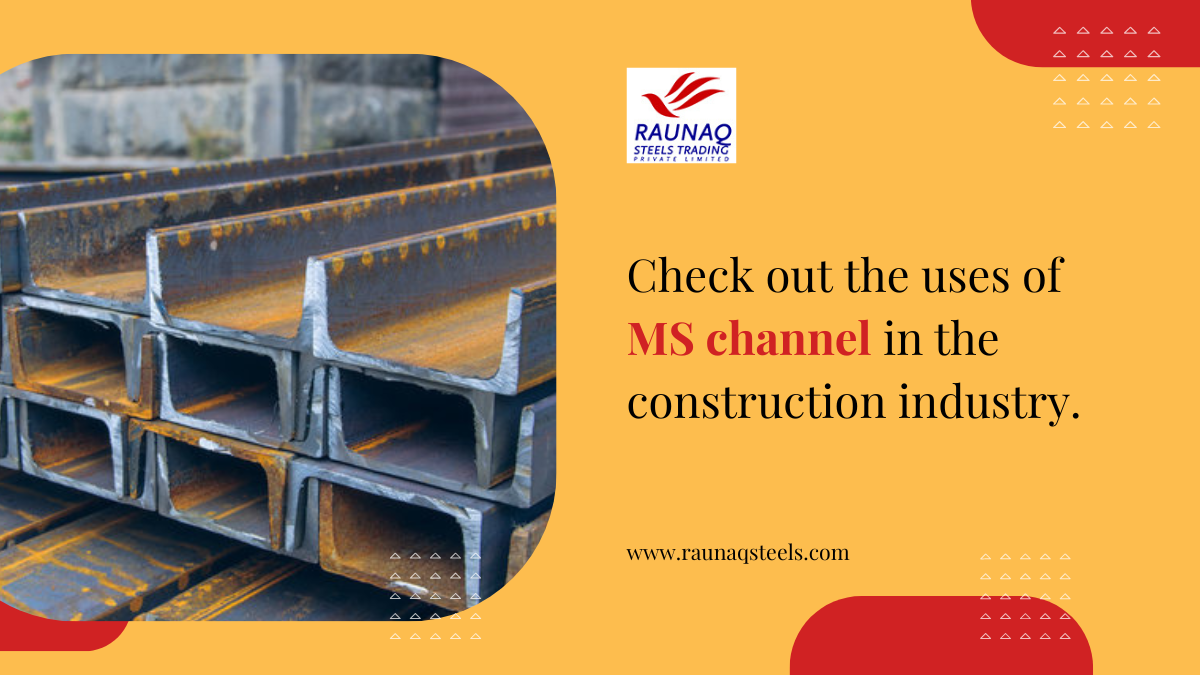 Check Out The Uses Of MS Channel In The Construction Industry.
May 10, 2023
The MS channel is an important steel type used for a variety of applications. These come in a variety of colours and sizes and even have a high-quality hot-rolled finish. Such an application allows them to be used in several industries and for the protection of different items like bridges, vehicle chassis, fabrication of steel structures, and so on.
Besides this, these are also used for framing, cutting, welding, and machining. These channels are of two types, the U-channel, and the C-channel. Since the carbon content of mild steels is moderate, these can be used for several purposes. Unfortunately, one cannot use these in a destructive situation without putting a type of protection on it.
Top 6 uses of MS channel by pre-engineered building manufacturers in India
Their carbon content makes them a highly machinable material. This is the reason why they are in such high demand by pre-engineered building manufacturers in India. Let's know about their uses too!
Using MS channel for walls
One of the biggest appliances of MS channel is walls. They are used to set up the walls of the garage, workshop, warehouses, etc. The studs are meant to run vertically from the bottom to the top of the plate. These are bought based on the MS channel rate per kg.
When compared to a wooden stud, these metal studs are more compatible for bearing the load. One cannot neglect the weight of a steel stud to that of a wooden stud. Even though they are difficult to install, their support is much more reliable, even for bolting and riveting.
Usage in door and window frames
A major usage of these steel channels is that they help in manufacturing reliable frames. Irrespective of whether it is a steel or wooden frame, the studs act as a support. These are cut into four pieces, having a miter joint for every end. Once done, the channels are slid over by the pre-engineered building manufacturers in India for securing the frames. These are mostly used for setting up the frames of commercial buildings.
Usage in trailers
Steel distributors in Chennai transport this steel to different locations using trailers. But, what comes as a surprise is that these trailers are also made of MS channels. Trailers like flatbed, travel, and box; all use heavy-duty channels for creating the tongue and the main frame. Even the flooring, be it of wood or steel, is attached to the structure using this MS channel to finish its deck.
Steel channel is often used for the construction of trailers, including flatbed trailers, box trailers, and even travel trailers and RVs. Heavy-duty steel channels can be used to create the main frame rails and the tongue, which it attaches to the towing vehicle.
Manufacturing roofs
The pre-engineered building manufacturers also use MS channels for light-duty roofs. These can be used as rafters since they are lightweight and smaller than the wooden ones. Although both have the ability to hold the same amount of weight, steel channels stay longer.
In case, the manufacturer is setting up a heavy-duty roof, the I-beams are supported by the steel channel in the shape of a 'T'. This allows the channels in bridging the gap and developing an attachment point for the steel deck.
Used for setting frames of vehicles
The MS channel rate per kg is an essential factor while being used in different applications as it determines the budget of a particular product. Mostly, for heavy-duty items, manufacturers prefer using heavy-duty steel channels like the ones that are used to make the rails. For small items like radiator supports, one can use lighter steel channels.
Construction of steel buildings
The steel distributors in Chennai provide steel channels to be used in conjunction with the I-beams for being used in commercial buildings. These are of great help since they act as girts, braces, joists, and studs for different structures within the construction.
Besides this, their placement in the right location provides them with strength and the ability to hold the weight.
The MS channel is not only an important material in itself but also works comfortably with similar steel items like I-beams. It holds the position of items upright and is predicted to go a long way.
ALSO, YOU CAN READ OUR NEW UPDATES