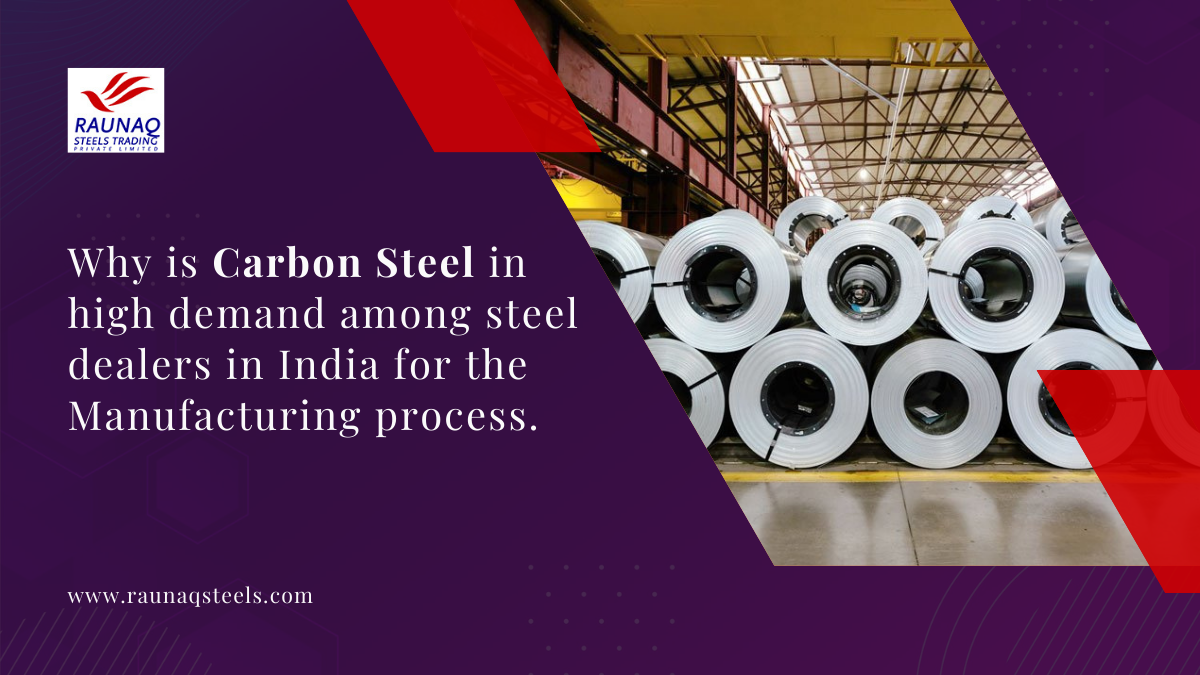 Why Is Carbon Steel In High Demand Among Steel Dealers In India For The Manufacturing Process
April 21, 2023
Most industrial sectors use carbon steel due to its exceptional mechanical and chemical properties. Being a reliable material, it has been a reliable choice for most manufacturers and dealers. This material consists of a considerable amount of carbon along with a few other elements.
But, before selecting the right material, it is very important to know about the proper grades. These grades make them demanding among clients. Further, the material owns weldability property, machinability, and strength.
Learn about the advantages of using carbon steel from steel dealers in India
Carbon steel is made mostly with carbon, involving a few other materials like iron, manganese, etc. Due to the increased amount of carbon in the material, steel dealers in India consider it to be stronger than most materials.  In total, it consists of carbon (2% and 2.5%), copper (minimum of 0.4% to a maximum of 0.6%), manganese (less than 1.65%), and silicon (less than 0.6%).
Besides this, there are several advantages of carbon steel that make it superior to traditional steel. Let's take a look at them.
Carbon content:

One of the greatest advantages of carbon steel is the amount of carbon it contains. The best steel companies in India use this metal in areas that require strength. However, it is likely to bend under great pressure since it is brittle. Applications like Japanese bladesmiths use high-carbon steel for making tamahangne steel which is again used for making automotive components, construction materials, etc.

Durability:


Steel distributors in Chennai are often found supplying this steel due to its use in applications. Besides being used in the automobile industry, it is also used for making those items that require strength and is shock resistant. Such a steel type is mostly used while constructing residences, government buildings, and other materials that can withstand natural disasters.

Affordability:

Compared to other steel types, carbon steel is a lot cheaper. This is why, it is ideal for manufacturing items like pipes instead of making them from copper. Besides this, it can also be recycled to be used in other items.

Safety:

Compared to most materials, the best steel companies in India consider steel to be much safer to handle, and maintaining them is relatively easy. This is the reason why it is being used in cookware so that it does not shed harmful chemicals into the food.
Types of carbon steel and its Uses
The category of carbon steel is divided into three different. These types are differentiated according to the amount of carbon present in them. These categories are- High carbon steel (consisting of the highest amount of carbon), mild carbon steel (consisting of 0.6%-0.3% of carbon), and low carbon steel (less than 0.3%). Even though there are limited steel categories, their use in applications is limitless. Let's take a look at them.
Low-carbon steel:

The steel dealers in India supply this to the manufacturing units for producing frames, government, and other residential buildings. Besides this, it is also used in pipes and other automotive parts. Even smaller products like wires and nails are also made from this steel type.

Mild-carbon steel:

This steel type is also used in structures like axles, gears, shafts, fridges, washing machines, etc. This is because of their perfect amount of carbon that allows them to stay strong and undergo pressure without breaking.

High-carbon steel:

This has more durable than the other two and is therefore supplied by steel distributors in Chennai for being used for cutting coils and springs and for the production of the hammer, wrenches, etc. other tools that are used in the building process.
Besides this, there are also other alloy steels that have several other elements in them. These include titanium, aluminium, and nickel. The inclusion of all these elements in the metal completes its properties. The metal gets its demand from the strength and practicality it possesses.
The wide range of grades that carbon steel contains is used in several other applications like cams, tanks, structural applications, constructions, automobiles, etc. Thus, it is very hard to ignore the demand for carbon steel among manufacturers for the production of durable and sustainable products.
ALSO, YOU CAN READ OUR NEW UPDATES