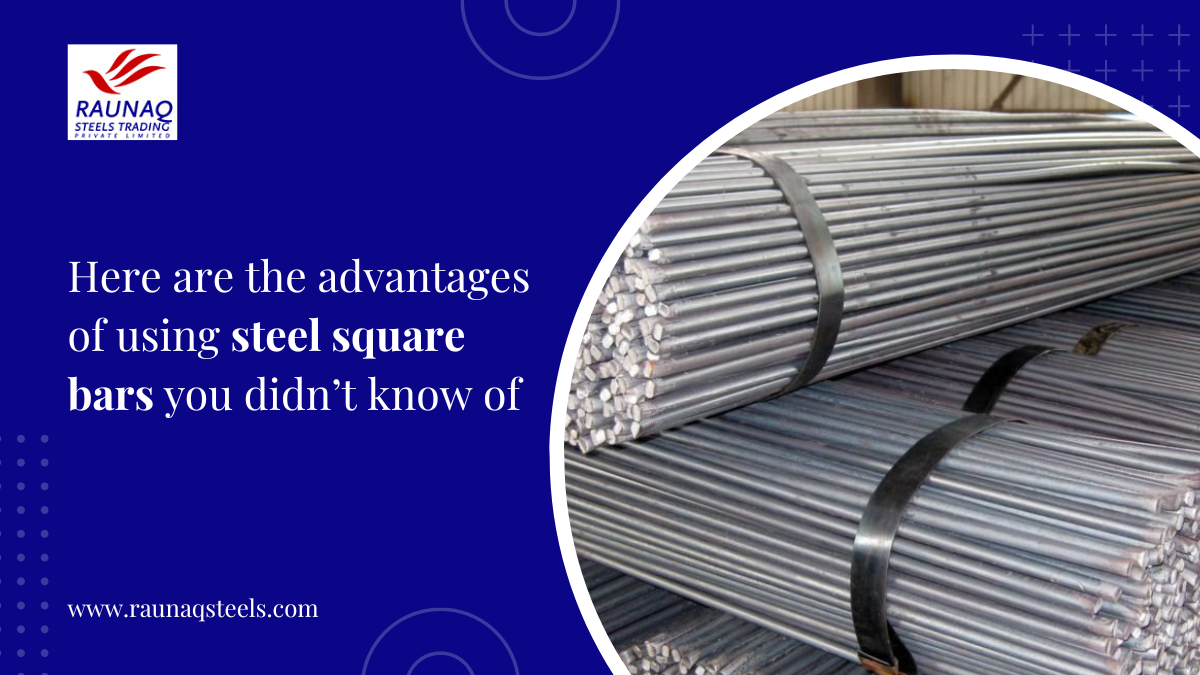 Here Are The Advantages Of Using Steel Square Bars You Didn't Know Of
December 22, 2022
Steel square bars are known to be stronger due to their geometrical shape. As a result, they are able to handle more pressure than round bars. The stainless steel square bars have a finish that makes them perfect for being used in different industries. It is also the reason why they are in such high demand among steel dealers in India.
These bars are the core element of every manufacturing industry. Every company that is based on machinery uses steel square bars. Also, demand for stainless steel is high among manufacturing units due to its hardness, strength and immense wear resistance.
Why are steel square bars in high demand among steel dealers in India?
There are several beneficial factors that make steel square bars important. These bars are also used in agriculture, oil and gas, tool and die, defence, rail and industries that generate power. Thus, buying the right quality steel bar from steel dealers in India is essential so that its quality is not compromised.
Here are some of the benefits of using steel square bars in industries.
Provides structure: One of the benefits of buying steel square bars from the best steel companies in India is that it provides flexibility. This flexibility of steel square bars is nothing compared to the flexibility provided by concrete.
Provides stability: A benefit of steel square bars is that it provides structural stability to the building. Due to its shape, the square bars prevent from any kind of slipping and allow ample development in the length of the building.
Useful in complex designs: Different steel dealers in India deal with square bars due to the support they can provide to buildings that have complex structures. The structure of these bars helps to provide support to roads and bridges and lays the foundation of tall buildings. Further; they are also used to construct ships, support a boat and other steel structures.
Applications made out of steel square bars
There are mostly 7 different applications that use steel square bars. These are:
Brewing: Breweries use stainless steel vats from the best steel companies in India for storing manufactured products. These vats use cold-rolled steel bars so as to gain strength and support while carrying a heavy amount of weight.
Fencing and gates: Steel fencing is a must for homeowners. Thus, many pre-engineered building manufacturers in India prefer using steel square bars for fencing and gates as it provides sturdiness and an aesthetic appearance to the architecture.
Furniture: The stainless steel bars, due to their flexibility can be wielded and bent easily. This resulted in the development of several pieces of furniture, for example; legs for benches, chairs, tables and stools. Also, it becomes an attractive choice for modern-looking furniture.
General manufacturing: Square steel bars act as a good choice for manufacturing products. This is due to the versatility and strength of the metal. Building manufacturers, therefore, use metal components like nuts and screws made out of square steel bars that can fasten joints. Even in the field of machinery, these bars are used to create parts that help in carrying loads and resisting cold.
Grills: The metal sheets that are used for making grills require a frame. This frame is made up of steel square bars so that when the metal expands, the grill won't fray since it can undergo a fire's heat and tensile strength.
Protective barriers: The hot rolled square sheet bars are used as protective barriers since they can be moulded into any shape.
Railings: Pre-engineered building manufacturers use stainless steel square bars due to their appearance which makes them perfect for interior designs. Also, other materials like wood stairs and landings not only look classic with the design but also makes everything less expensive that the others.
With the growing time, square steel bars have turned out to be of high importance in almost every field, since they are light weighted, durable and stronger than other metals. Also, their use in different platforms makes them even more special. The biggest benefit of a steel square bar is that it is not much expensive which proves its growing demand in different industries.
ALSO, YOU CAN READ OUR NEW UPDATES