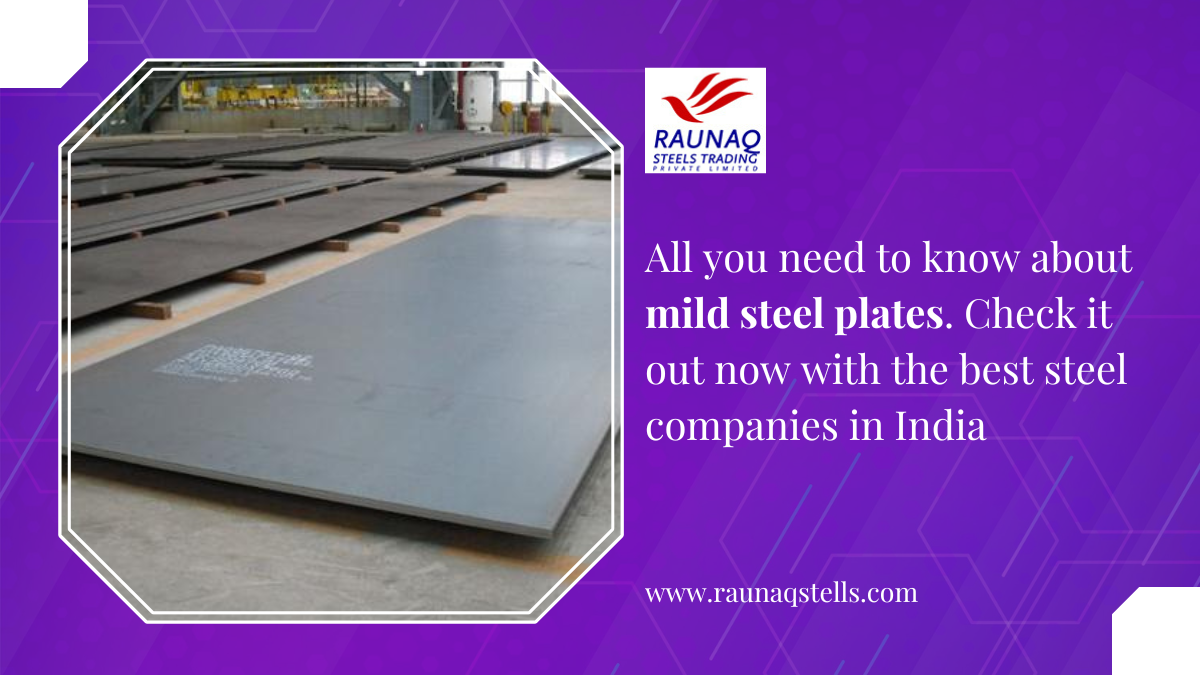 All You Need To Know About Mild Steel Plates. Check It Out Now With The Best Steel Companies In India.
June 19, 2023
Using Mild steel products in our day-to-day lives is very common. But, does everyone know about all its details? Guess not. Mild steel plates are among the most common steel type that is in use by manufacturers. Starting with the construction industry, up to military and seawater products, mild steel has been the most beneficial material.
The properties that each of the applications of mild steel possesses makes them one of the most perfect material. Apart from this, its production is also not an issue, considering the items that are used to make this steel type. It's known to be one of  3 types of carbon steel, containing the perfect amount of carbon that makes it strong yet flexible. Let's learn some more detail about it.
How do the best steel companies in India produce mild steel plates?
This application of mild steel is one of the most used items. The product mild steel in itself is a durable material, thanks to its presence of the perfect carbon content followed by increased heat treatment. The best steel companies in India follow a much more cost-effective process that helps in making this treatment more efficient. Also, the manufacturing of the steel is done using pure iron. This defines its quality.
There are two separate ways through which the mild steel plates are produced by the pre-engineered building manufacturers in India. Let's take a look at them.
Primary Steelmaking:

In this process, the iron ore is allowed to mix with coal and lime, which is then heated in the blast furnace (leading to the formation of pig iron). The different processes that are used in this steelmaking include Basic Oxygen Furnace (BOS). In this way, the carbon content is reduced to a maximum of 1.5%.

Secondary Steelmaking:

Here, the excess carbon contents are reduced and more alloys are added. Under this process, secondary steelmaking is done by pre-engineered building companies in India. These are:
CAS-OB

Degassing

Ladle furnace

Ladle injection

Stirring
For enhancing its performance, a few of the specified content is added to the mild steel, allowing it to be converted into different applications, starting with angles, plates, pipe, bars, etc.
Features of mild steel plates
There are several features of mild steel plates that make it an excellent material for being used in different applications. Let's take a look at some of these features.
Strength:

One of the top features of mild steel is that it is very strong even though it can be bent as per requirement without causing any sort of breakage. This is the reason why they are so preferred for the building of bridges and flyovers.

Durable:

Mild steel plates, especially the MS chequered plate are highly durable and long-lasting. They are also known for their anti-slippage feature and have a wonderful grip.

Appearance:

These have a very dark appearance. Most of the mild steel plate suppliers supply this steel for buildings, commercial projects, and the construction of housing complexes.

Resistance:

These are highly resistant to fire and saltwater. This is the reason why the best steel companies in India use this steel type for the building of ship hulls, decks, and military cars. Even for making different automobiles, this plate is used.

High conductivity:


Mild steel products have great conductivity when it comes to saving a building or other such application from a super electric shock.

Cost-efficient:

Another feature of mild steel plates is that they are cost-efficient. This is because of the cheap materials that are used to set up this material. Even for deep-drawn processes, these can be easily stretched and formed.
Types of mild steel plates
There are two different types of mild steel plates. These include hot-rolled mild steel plates and cold-rolled mild steel plates.
Hot-rolled mild steel:
The hot roll sheet and plates are manufactured at a temperature of 900 degrees Celsius. Due to this reason, the steel becomes more malleable and can be easily developed into two large sizes.
Cold-rolled mild steel:
The cold-rolled steel sheet and plates are developed after the hot-rolled process when the steel is completely cooled down at room temperature.
The best steel companies in India provide hot-rolled mild steel at a cheaper price than cold-rolled mild steel due to wider dimensional tolerance and a lower-quality surface finish.  The cold rolled steel on the other hand is much more expensive, has a more uniform surface, and a better dimensional accuracy.
These are all you need to know before buying mild steel plates from the best sellers so that their quality is maintained and it is used for a longer time.
ALSO, YOU CAN READ OUR NEW UPDATES