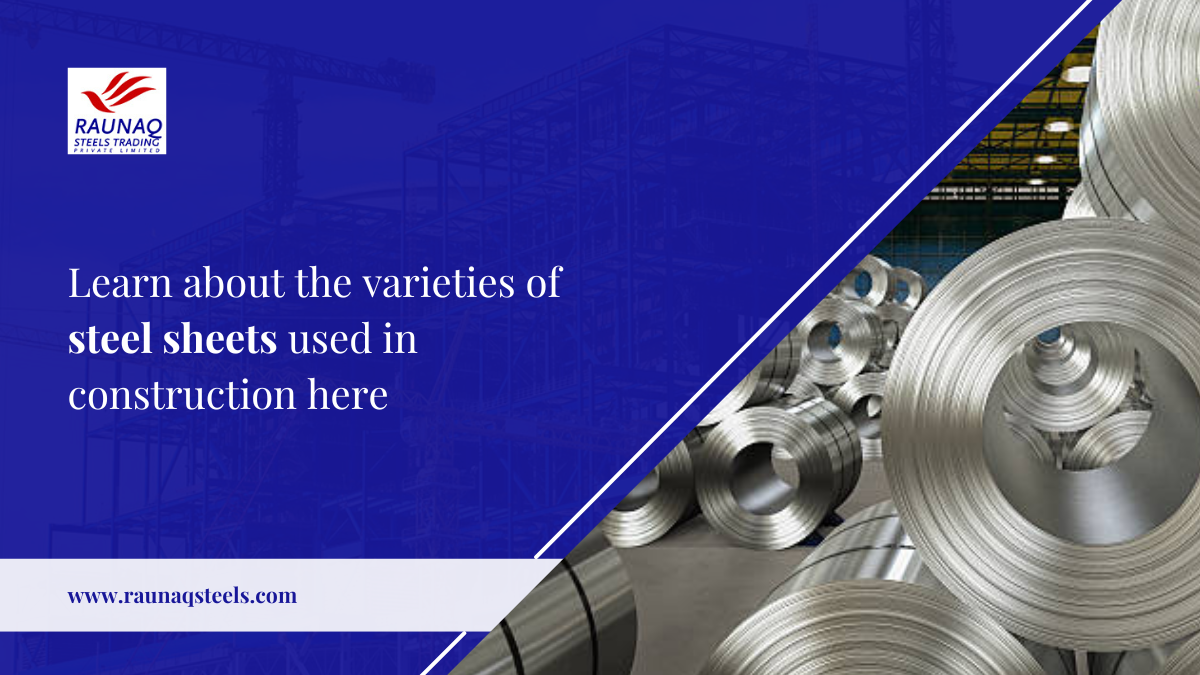 Learn About The Varieties Of Steel Sheets Used In Construction Here
March 27, 2023
Different types of steel sheets are used in the construction process. Here, the steel is turned into the required shape and is used in the manufacturing process. All the factors including formability, weldability, corrosion resistance, weight, width, and strength; are taken into consideration while transforming the steel metal.
The metal sheets are made out of different materials that support the fabrication process. These include stainless steel, aluminium, cold rolled steel, galvanized steel, and copper. Let's get a deeper insight into the matter.
Top 5 steel types used by pre-engineered building manufacturers in India 
Here is a list of the top 5 sheets of steel that are fabricated by pre-engineered building manufacturers in India into steel sheets for being used in the construction process. Let's take a look.
Stainless Steel
This steel type is among the most popular material that contains alloy components. About 10.5% of chromium helps the metal to stay shiny, corrosion-resistant, and durable. Further, the stainless steel sheet is also divided into three common steel grades. These include:
Austenitic stainless steel
One of the most used grades which are not only non-magnetic but are also labeled under the 300 series is the stainless steel sheet. Its formability and resistance to corrosion make it so popular among steel dealers in India. It holds such features due to the presence of low carbon contents and high chromium and nickel elements.
This metal has magnetic properties, is non-heat-treatable, and is labeled under the 400 series. The nickel content in this steel type is almost nil and the chromium content varies between 11-30%. Mostly, this steel is used for developing aesthetic applications that require resistance from corrosion.
Martensitic stainless steel
This grade is beneficial as it can resist both heat and corrosion. No nickel content is present in this steel type. Further, the best steel companies in India manufacture this due to the range of hardness and strength level it provides.
A big advantage of stainless steel sheet metal is that it is 100% recyclable. Besides this, it is also strong, possesses resistant abilities against heat and rust, and is durable. Such a material plays a great role in promoting towards a sustainable and eco-friendly environment.
Cold Rolled Steel
Also known as CRS, the cold-rolled steel sheet is also used by pre-engineered building manufacturers for achieving smooth and finished products. Compared to hot-rolled steel, cold-rolled sheets are much more effective and can withstand more dimensional tolerances.  After being cooled down to cold-rolled steel, it is kept at room temperature for undergoing the annealing process. This, in turn, makes the steel 20% stronger than its original form.
These have an aesthetic look and are therefore perfect for manufacturing different kinds of products. These products include:
Aerospace structural components

Automotive parts

Metal furniture

Home appliances
Galvanized Steel
This is another type of steel sheet used by steel dealers in India offering great strength and durability. Such factors make it an important material for being used in the fabrication process. The feature that makes it galvanized is the coating of a protective zinc layer over the product. This layer ensures that the steel is not corroded and maintains a high quality for a long period.
This steel sheet is used mostly for automobile parts and other water-exposed goods. Besides this, it also has several benefits like cost effectiveness, easy maintenance, longevity, and a beautiful aesthetic appeal.
Aluminium
Aluminium is a non-steel material that is used in the fabrication process. Even though it has a 1/3 density of steel, it is steel used for several applications. Even the pre-engineered building manufacturers in India use this sheet in constructing different areas of the house.
Besides this, there are other properties of Aluminium that make it a popular material. These are corrosion-resistant, can be broadly customized, and have great strength. They are even used for processes like laser cutting, machining, and welding. Industries like Energy, Aerospace & Aviation, Electronic Enclosures, Defence& Military, etc. use this material due to its physical properties.
Other applications of Aluminium include:
Assemblies

Housings

Framing

Bracket & supports

Panels

Cabinets

Housings

Panels
Copper/Brass
Some of the best steel companies in India produce sheets that combine a high copper content. This content forms a protective oxide layer and prevents the sheet from corroding. Besides this, this material also produces an aesthetic-looking product that can be used for architecture or other consumer-facing products.
These were the top 5 materials that play a great role in smoothing the fabrication process. Most construction sites also use these sheets due to their unique features and outstanding capabilities.
ALSO, YOU CAN READ OUR NEW UPDATES