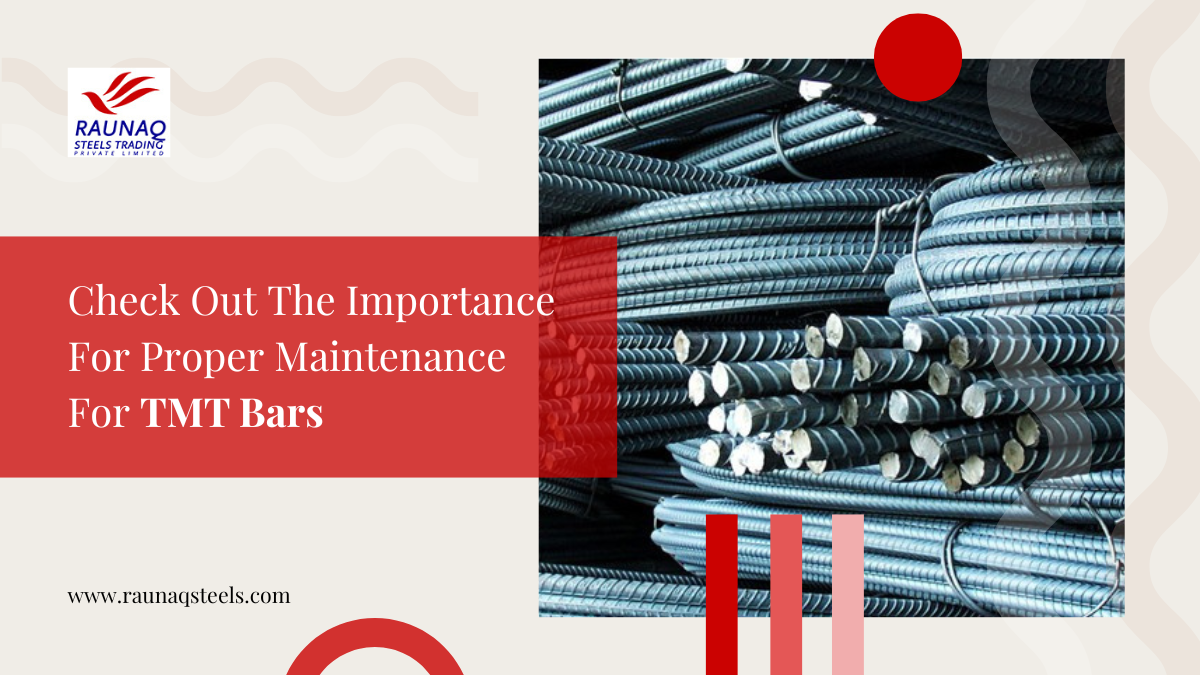 Check Out The Importance For Proper Maintenance For TMT Bars
March 16, 2023
Two of the most important factors for constructing a building are steel and cement. Without these, any structure be it commercial or domestic cannot stand. The two vital components ensure the structure's lifespan as well as resilience. This is why it is very important to choose the right quality for both products.
An important steel product that is widely used in construction projects is TMT bars. It not only strengthens the structure of the building from its base but also prevents it in times of natural disaster. This is why it is important to maintain their quality.
Learn about the process of maintaining TMT bars from the best steel companies in India
A large number of TMT bars are produced by the best steel companies in India. Besides choosing the right TMT bar, it is also essential to maintain its quality so that it can be later used after being stored for a very long time. Here are some of the do's and don'ts that you must follow for storing a TMT bar.
What NOT TO DO while storing a TMT bar
While storing the TMT bars, you must ensure that they are not in direct contact with dust particles, water droplets, or moisture.

TMT bar suppliers in Chennai ensure that the place where the bars are being stored does not have an outlet for water to go in. This is because water can have the worst effect on the bar and end up rusting it.

The location that stores the TMT bar should not be made of a material that can react with the bar.

The steel distributors in Chennai do not over-pack the storage area with TMT bars.

This is done to avoid accidents and support a better stockpiling process.
After the production of the entire TMT bar set is done, it should be kept under great supervision. The best steel companies in India ensure that it is not affected by any physical or chemical changes which in turn might degrade its quality.
What to DO while storing a TMT bar
The TMT bars need to be stored in a dry area that is damp-proof so that there are no chances of decay or corrosion. This is the way steel distributors in Chennai protect their products from getting rusted even after being stored for a very long time.

The dates when the TMT bars are stored should also be tracked. This helps in understanding the time limit of their storage.

The area where the bars are stored should not be very hot. Instead, it should be well-ventilated so that a sudden drop in the outside temperature does not affect the inside.
Why are TMT bars so popular?
From what can be seen, TMT bars are in high demand among TMT bar suppliers in Chennai. Let's learn why.
Rib design: This allows the bar to combine effectively with concrete and cement for better strength and adhesion.

Resistance from natural calamity: Of course, there is a chance of the building collapsing after being hit by seismic waves, but eventually. The best steel companies in India manufacture these bars in such a manner that they can withstand earthquakes to a certain extent.

Corrosion resistant: TMT bars may slightly corrode if they are not maintained properly. But, such a factor does not prevent them from being in high demand among bar suppliers and being used in the construction project.

Fire-resistant: These bars are resistant to fire. This is one of the biggest reasons for their popularity. Being fire-resistant makes them durable and creates a layer of stability and safety for the projects.

Environment-friendly: Earlier, concrete was one of the main components of construction. But after the introduction of the TMT bars, constructors started using them as a replacement for concrete since they do not harm the environment. Even in harsh temperatures, these TMT are quite adjustable.

Easily transported: These bars are very lightweight and thus can be conveniently carried from one place to another. This further helps to deduct the costs to a great extent.
It is essential to take proper care of the TMT bars so that they do not cause any kind of accident and can be stored for a longer duration to be used in the future. Make sure no corrosive substances are in close contact with the bar to avoid rusting.
ALSO, YOU CAN READ OUR NEW UPDATES