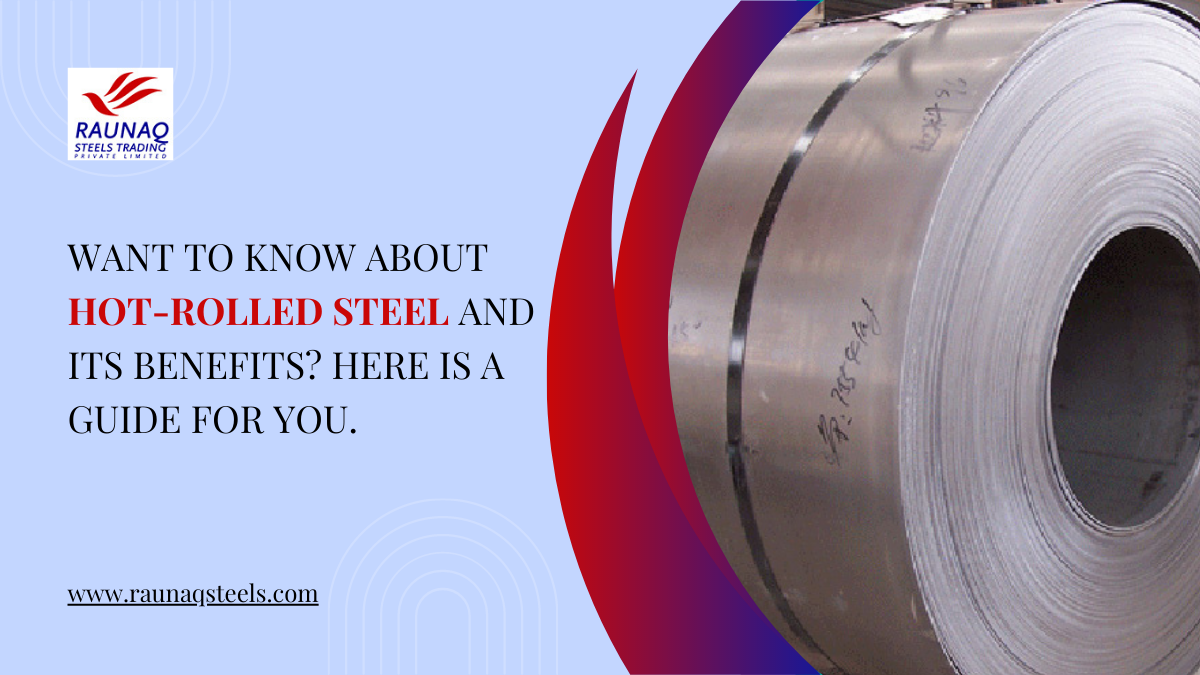 Want To Know About Hot-Rolled Steel And Its Benefits? Here Is A Guide For You.
January 12, 2023
Steel dealers in Chennai consider hot-rolled steel as one of the most useful steel products. This steel is roll-pressed at a temperature of 1,700˚F which goes above the temperature of re-crystallization for most steels. Thus, as a result, it is quite easy to work with this steel since they are easier to foam.
Products like hot-rolled plates and coils are produced from this hot-rolled steel which is further manufactured using a large length of metal known as billet. This metal is heated for the process and then sent for pre-processing where the product is turned into a large roll. After this, the product is kept at a high temperature and made into rolls by pushing the white-hot strands of steel into it at high speed. For sheet metal, the steel is sectioned and packaged.
For more precise products, the material is allowed to shrink more in order to give it a shape. The hot-rolled steel is used mostly for construction projects and railroad tracks.
How is hot-rolled steel beneficial for steel dealers in Chennai
There is a great demand for HR steel in Chennai. Let's learn what makes them so special.
Cost: The price of hot-rolled steel is quite suitable, compared to the strength it has.

Flexibility: The HR steel is malleable and can be cut or moulded into any shape while it is still hot. Once the material is cooled down, it becomes very hard and thus unable to change shape.

Wide usage: Steel dealers in Chennai use keep fulfilling the need for HR steel due to its requirement in several applications.

Time period: Since HR steel can be easily manipulated; it is used more in manufacturing products compared to cold rolled sheets.
When heat is applied to the HR steel, it weakens the quality of the cold-rolled steel. Since it is rougher to the earth, the elements can settle better in a rough patch than a smooth one.
Applications of hot-rolled Steel
The property of Hot-rolled steel allows it to shrink after its cooling stage. Thus, it is difficult to control its shape once the temperature is already low. This is why; these products are used in applications that do not require excessive tolerance.
Some of the applications of hot-rolled steel are:
Agricultural equipment

Automobile parts like frames and wheel rims

Construction materials like beams

Railroad equipments like tracks and railcar components
Characteristics of hot-rolled steel
The hot-rolled steel that is manufactured by the best steel companies in India has a scaly finish. This can be removed through the process of pickling, grinding, or sand-blasting. The material is free from any kind of internal stress and thus arises from quenching or work-hardening processes since it is made to cool at room temperature.
Steel dealers in Chennai claim that hot-rolled steel has several properties. Let's take a look at a few of them.
These have slightly round edges, especially the hot-rolled plates due to their shrinking and less precise finishing.

Have slight distortions

Are more malleable and can be turned into many shapes

Is ductile and tough
Uses of hot-rolled steel
There are quite a number of benefits of using Hot-rolled steel. The strength this steel provides is a lot, compared to its price. The best steel companies in India do not have a different methods for preparing hot-rolled and cold-rolled steel. The HR steel is cooled gradually so that it is much stronger and can be more expensive.
This steel is used for wielding railroad tracks, I-tracks and I-beans since there is no requirement for smooth finishes and precise shapes. The tolerance range for HR steel is much wider due to the cooling process. Thus, it might get difficult to predict the exact measurements. It also has a rougher surface that can be fixed using sandblast to give it a smooth finish.
This overview on hot-rolled steel can help you learn a lot about the material. Considering the purpose of the building, every material that you choose shall have certain pros and cons attached to it. For run-of-the-mill projects or one-off productions, the hot-rolled steel materials can provide the blocks for developing the imagined structural configuration.
ALSO, YOU CAN READ OUR NEW UPDATES