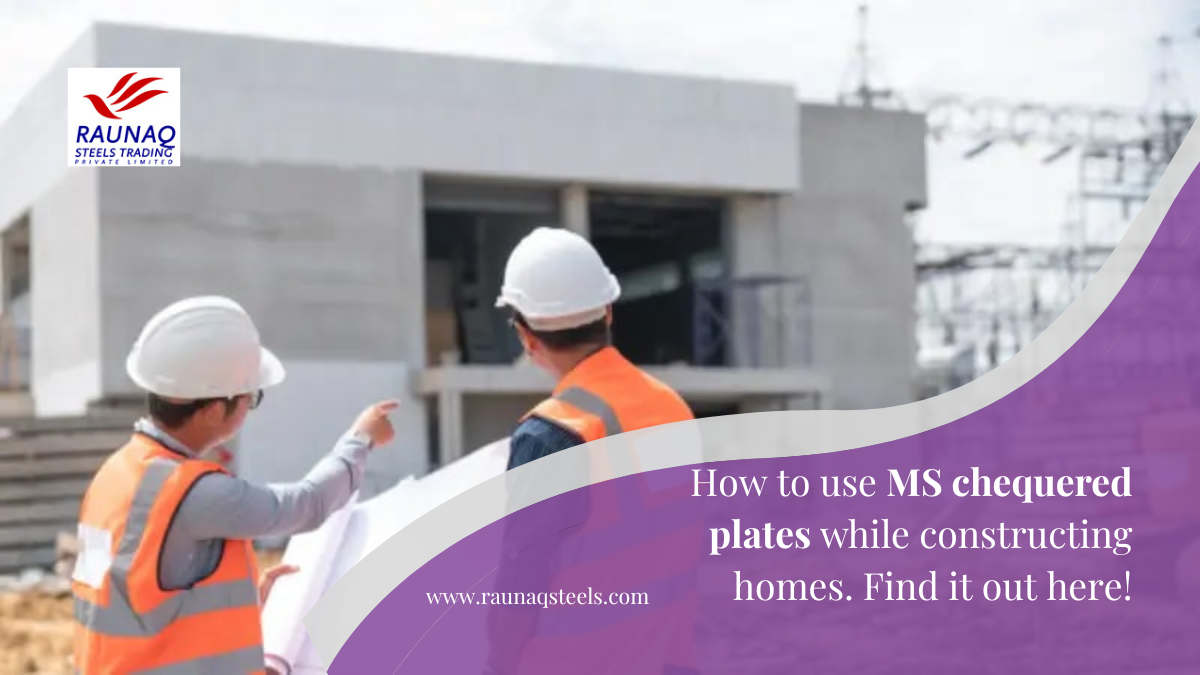 How To Use MS Chequered Plates While Constructing Homes. Find It Out Here!
January 24, 2023
Mild steel is known for the excellent quality that it possesses along with durability. It contains a minimum of 0.05-0.30% of carbon, making it highly malleable and ductile. And since every construction depends on the steel type and the products, it is important to choose the right MS chequered from the best MS plate supplier in Chennai.
The MS chequered plate is developed from a pierced sheet, either manually or mechanically and is created in the pattern of holes, slots and decorative shapes. The raw materials that are used in construction undergo a tedious process to form the desired product. The sheets are manufactured under proper supervision and are durable enough to last for a long time.
Reasons to buy MS chequered plates from MS plate suppliers in Chennai
There are several reasons why one should buy the MS chequered plates from the right steel supplier, the most important of them being its quality.
Slip resistance: These plates have turned out to be one of the most useful metals to avoid an accident due to their anti-slip surface. Such a surface prevents any kind of mishappenings and in turn, acts as a safety guard for the clients. Most people use this steel due to its high friction and developments in technology.
Manufacturing process: The quality of a mild steel product is based on its manufacturing process. Every mild steel plate supplier ensures that the product supplied is of the highest quality. It often involves a rolling technology along with modernised equipment that helps while manufacturing the product. The better the quality, the more the chances of standing for a long time.
Very lightweight: Compared to other steel products, the chequered plate is much lighter in weight. The technology that is used in the development of this product removes all redundancies and helps in the formation of a perfect shape and material. Most MS plate suppliers in Chennai use these plates for commercial use.
Resistance: The MS chequered plates have a high load and weight. This is the reason why they are used in the construction of bridges, staircases, flyovers, etc. Due to their high resistance to load, they are perfect for being used in several applications.
Cost-effective: The best steel companies in India produce MS chequered sheets at a very low cost. This is due to their reduced maintenance cost and the availability of raw materials. Thus, it is a surprise for many to receive such steel with excellent qualities and characteristics and yet is inexpensive.
Applications of MS chequered plate
These plates are highly advantageous and of superior quality making them perfect for being used in different applications and are in high demand among MS plate suppliers in Chennai. Some of these qualities include machinability, welding ability, anti-skin property, abrasion resistance, metal-grading, self-draining and others.
This steel product is manufactured by the best steel company in India and is used in various applications, not only because of its cost and weight but also because they are easy to install, highly economical, decorative, have the option of self-cleaning and are not affected by high temperature or is alkaline.
The mild steel plate supplier provides steel products to different sectors for being used in several applications. These include:
Being used in the construction of bridges, staircases, walkways, etc.

Used in floors for ambulance cars, trucks, etc.

Can be cleaned easily

Are used for the construction of gyms and shopping malls since they can withstand heavy weight.

Are used for ramps in most industries to minimize the chance of slipping.

Are used inside the structures to reduce foot pressure.

Is preferable for truck tool box and warehouse loading docks

In many areas, these plates are used for the treatment of water, wastewater treatment, power plants, chemical plants, offshore and ship buildings.

Are used inside the house in various objects like table tops, stair runners, refrigerators, air conditioners, table foot, decorative strips, chairs, etc.
These were some of the benefits of using an MS chequered steel plate for construction and daily use. One must analyse the requirements carefully before buying a steel product. Every steel product bought should always be according to one's preferences.
ALSO, YOU CAN READ OUR NEW UPDATES