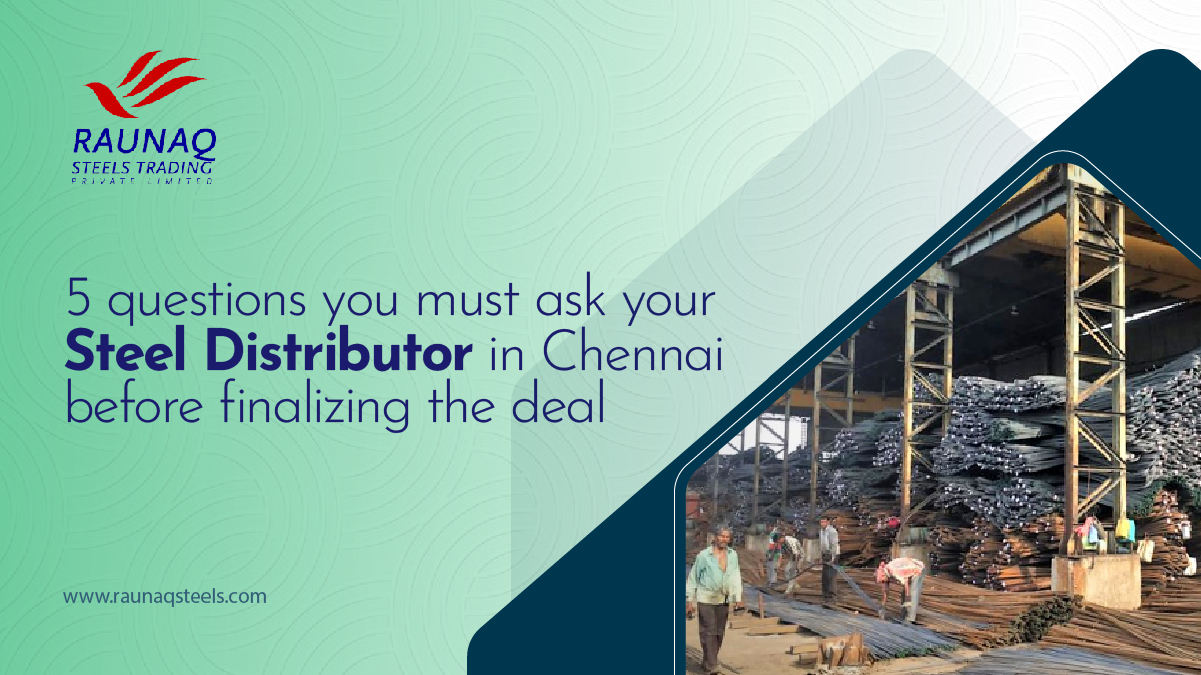 5 Questions You Must Ask Your Steel Distributor in Chennai Before Finalizing The Deal
May 18, 2022
When it comes to accessing top quality steel products for your construction needs you must approach the best steel distributors in Chennai. In a previous blog we have discussed some important criterion that you must follow during the selection process of your steel distributor. As you shortlist the names of the top contenders, you need to be ready to take the next step of having a conversation with them to finalize a name. Having this conversation is of paramount importance, as this is your opportunity to communicate your requirements with clarity, and also ask some important questions, the answers to which will determine the final name. These 5 questions listed below will help you gauge the efficiency of the distributors, let's learn what these are.
5 questions that you must ask your steel distributor:
What kind of steel products do you provide?
At first, it might seem like an unnecessary query, but this question is aimed at revealing how well-stocked your steel distributor is. A top steel distributor will always have a big inventory stocked with numerous steel products, whether you need MS plates, or, MS angle or, hr plate he would be able to supply you with all of that. You must learn about the type of steel they offer as well. If the distributor has a well-stocked inventory where one can find supplies from top brands in the country he could definitely be trusted to meet your specific product needs. You must also check out the product specifications to be sure.
How many years of experience do they have?
It is a smart move to choose a steel distributor who has years of experience in this field. When you work with a distributor who has 20+ years of experience behind them, you can be sure that they are a trusted name. They have been supplying quality steel products for years adhering to the expected standard; furthermore, working on different projects for all those years has helped them develop a keen sense of the product requirements. It is only by offering quality products and service they have been able to survive the tough competition, so there should not be any doubts regarding quality. The experienced distributors will not only be able to suggest you the right hr sheet grades that you need, but will also offer guidance as they have the knowledge and insight that the new names would lack. You can ask them about the past projects they have handled, industries they have worked with, and get reference.
Will they be able to deliver on time?
Just the way product quality is essential for the successful completion of your project, likewise the timely delivery of the products is essential too. Talking to the steel distributors in Chennai you must talk about whether they would be able to make the deliveries as per schedule. Delays on their part would cause you to miss your deadline. Talk to them to learn about how long will be the processing time, and how fast will they be able to ship your products.  An established distributor will be able to meet the deadline and there won't be any delays. However, you must also ask them if there is a delay will they be offering any compensation? Check out their past record to know whether they were able to maintain the deadlines with their clients.
What is their pricing policy?
The quality products come at a price, as you approach the steel distributors to place an order ask them about the pricing policy. However, it is advisable to learn about the current market rate before approaching your distributor. For example, if you are going to place an order for hr plate, then check the latest hr plate price. Talk to the distributor to learn whether there is any discount available on bulk orders and if they are open to price negotiation. However, comparing the price offered by different distributors is essential if you want to have the best deal. While you are at it, also inquire if there would be any changes in the price due to market upheavals.
Do you have any suggestion?
The last but certainly not the least important question that you should be asking is what kind of material they would suggest for your project. You already are aware of the project requirements, but they have years of experience handling a myriad number of projects across various industries, so they would be able to offer you valuable guidelines regarding what kind of hr sheet grades would be right. They might give you suggestions that would help you keep your cost down. Also ask them if they offer customization services because you might need a different size altogether.
These 5 questions will help you understand how capable the steel distributors in Chennai are. As you go along asking these questions, you should also start making comparisons to zero in on the right distributor. So, do not skip this conversation, if you need more information then you should also include product specific questions to the list!