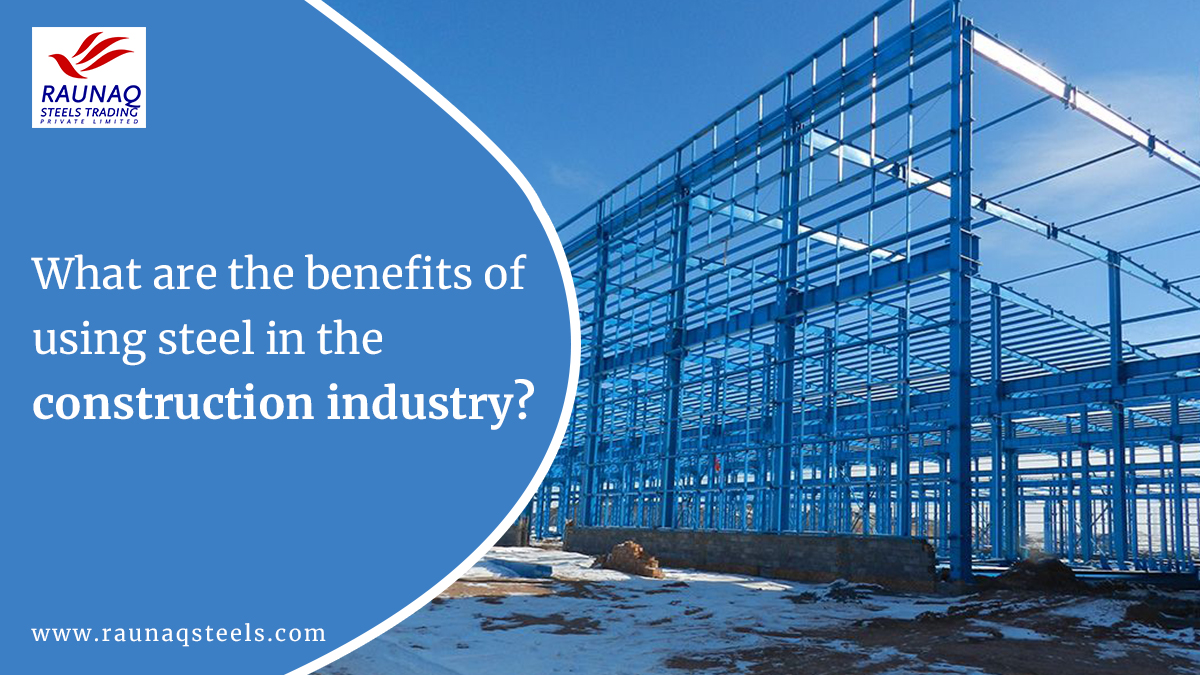 What Are The Benefits Of Using Steel In The Construction Industry?
September 13, 2022
In the field of construction a variety of materials are used and steel happens to be one of the most commonly used metals. Be it residential construction or, a commercial or, even a massive infrastructural construction, steel will invariably be a part of it. A number of steel items are used such as the steel bars, the steel coil, sheets, plates, and more. The reason behind the demand for the popularity of steel in construction would be the numerous benefits that come with it. Now if you are wondering what these benefits are, keep on reading and approach only the best steel dealers in Chennai.
Check out the benefits of steel:
Steel lends strength to a construction:
One of the biggest benefits of using steel in construction is its structural strength which is highly valued; whether it is a residential construction or, a commercial one, it needs to be strong. Steel not only lends strength to a building but it also makes the building durable. When the building is subjected to pressure, the presence of steel would ensure that the building is able to withstand any kind of pressure without developing any cracks. Therefore, it makes sense to invest in the steel for the construction industry.  Quality of the steel matters to a great degree, so only approach the best ms pipe dealers in Chennai for purchasing your specific steel products.
Steel is affordable:
The construction field uses a number of materials, and it requires manpower, machinery, as well; therefore the overall cost of construction goes up. However, steel is a cost-effective choice than other materials, and since steel is low-maintenance and is highly strong and durable, it promises to be a smart choice. There will be no recurring costs, and in the event of a disaster like an earthquake or, fire, the presence of steel will enable a building to withstand the shockwaves. However, the cost of steel would definitely vary from project to project as the requirement of steel would be always different. However, if one thinks in terms of the long-term value there is nothing like having steel from a reputed brand. For your requirement you should opt for reputed brands and approach the best JSW steel dealers in Chennai to get your products.
Steel is a versatile metal:
Construction projects always vary in terms of budget, and also in terms of construction requirement. Steel is a metal that can always meet the versatile demands, especially when you get it from the best steel dealers in Chennai; there are different varieties of steel around like the alloy steel, the carbon steel, tool steel, and much more. Each of the steel variety has some specific properties which make them ideal for different applications. Furthermore, one of the biggest beneficial properties of steel is that it is machineable and that makes steel easy to work with. For example, if some welding work is required then steel could be easily worked with, and no special treatment would be required and therefore, no extra cost would be added, and the steel could be shaped according to the specific requirements. Steel also is available in many product forms, from steel bars to steel wires many different products are around that are required for different projects. If you require steel pipes for example, get these only from the best ms pipe dealers in Chennai.
Steel is a safer choice:
As compared to other materials, steel is a safer choice. Materials like glass, is prone to breakage, and wood has issues like pest infestation; however, the steel is a much better choice than these materials. There would be no issue regarding pests, or, even breakage. Furthermore, steel comes with corrosion-resistance property which makes it absolutely ideal for the construction sector. Especially for the marine construction projects, or, for humid areas steel could be an excellent option. The steel bars for example, could be used and these won't get affected by moisture at all. The bars will not develop rust and therefore, the internal structure will not get affected at all. However, buying from reputed brands and JSW steel dealers in Chennai makes great sense here.
Improves construction quality:
Steel being a versatile, and easily available material with amazing properties, would be the perfect construction material. Especially as steel is ductile, and is machinable, steel could be used in the projects where customization is required. Furthermore, steel can stand the test of time and therefore, the buildings would remain strong and resilient. Especially, in the earthquake-prone zones, the steel is the right choice as it would help the construction stay strong. The massive infrastructure projects that involve building bridges, dams, turn to the pre-fabricated steel structures which are customizable, and are quickly put together, and these structures speed up the whole construction process. Steel is also recyclable, therefore, steel could also be reused and despite being recycled the steel will not lose the strength.
These benefits of steel do indicate why steel is so popular in the construction sector. Steel would continue to be the most prized material which is in great demand not only in the construction but also in other sectors as well, due to the amazing properties it has. However, quality will always be a priority and therefore, getting the steel products from the top steel dealers in Chennai is important.
ALSO, YOU CAN READ OUR NEW UPDATES