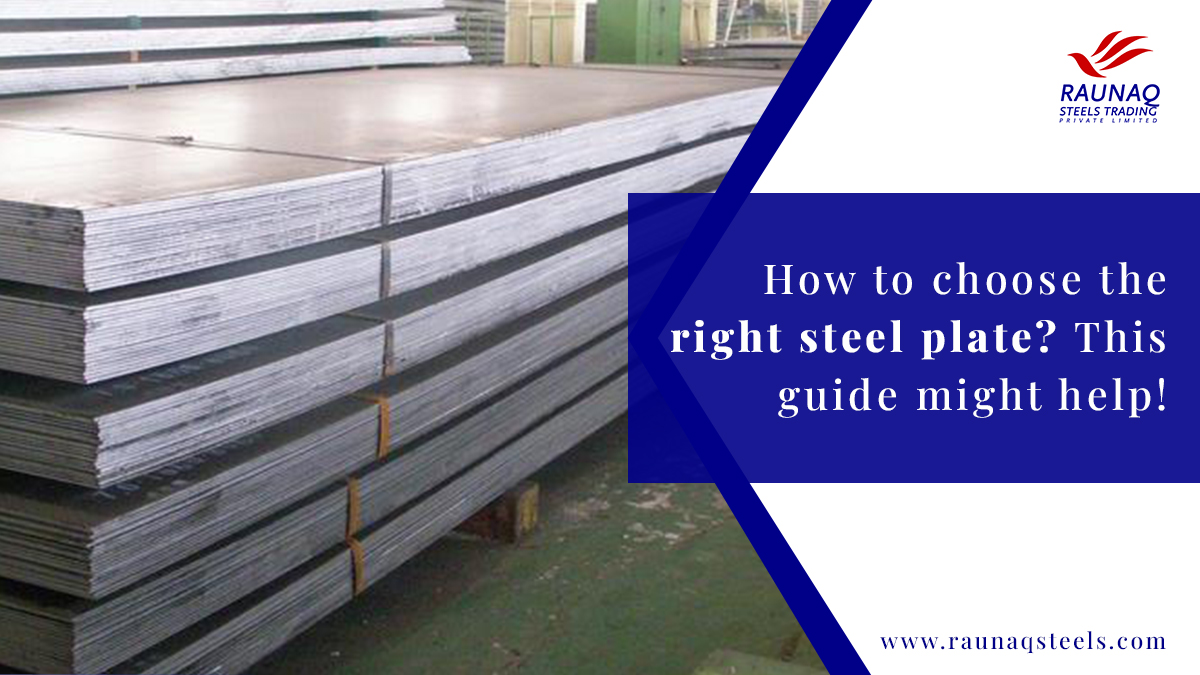 How To Choose The Right Steel Plate? This Guide Might Help!
September 28, 2022
The steel products are widely used in the construction and in other sectors, and they come in many forms. These steel products basically have different applications across industries. The steel has different variants such as mild steel, low carbon, alloy steel, and are available as steel bars, steel beams, steels plates, and other products. The steel plates are used not only in construction but in other sectors as well, however, the selection of these plates has to be made carefully. There are some pointers that you should keep in mind, before you choose a steel plate. So, let's take a look at the pointers here. While purchasing, reach out to the best steel dealers in Chennai to ensure you are purchasing only high quality steel plates.
Tips to choose the right steel plate:
There are certain criteria that you have to keep in mind while purchasing so that you can be sure that what you are buying is good quality and would offer you the best value for money.
Durability:
When it comes to buying steel plates, or, other steel products durability should be your priority. The steel lends strength and durability to a building. Therefore, when steel is used for a construction project it is expected that the building would be durable. However, while buying steel plates one should be careful about the quality of the steel and also the specific steel properties. Each steel variant such as mild steel, low carbon steel comes with a set of properties. Being aware of that is necessary, also steel is available in different grades, the strength, and durability of the steel would depend on the steel grade as well. Before placing an order have clarity regarding your project requirement, this way you would know which steel grade or, variant to opt for, if you are buying from mild steel plate suppliers then they can guide you better. Furthermore, if you want to increase durability of a particular steel grade, then you might consider opting for the alloying process.
Strength:
When it comes to choosing steel plates, you must look for strength as this is an essential property of steel.  The tensile strength of steel is required to make a building strong, and in the manufacturing sector also, steel would make a product durable and strong to withstand pressure. While choosing steel plates that might be used for the flooring, strength should be a priority. These plates should be able to withstand the heavy load that would be put on them. The selection of the steel plates should be based on the strength, and this specific property ensures that the plates would withstand huge load without developing any cracks. In the construction sector the steel is used and it lends this strength to the structure and it will stay strong despite there being heavy pressure or, load. Also before purchasing learn about the chequered plate price in Chennai.
Weldability:
The weldability of steel is another important criterion that you should never neglect. The weldability of a metal would make it ideal for many operations and applications; if your project requires that the steel plates need to be welded, then it is wise to choose a steel variant that have the weldability property or, that is easy to weld, ask the steel dealers in Chennai for guidance. If the process requires any pre-treatment or, process for getting the metal ready then that might enhance the cost, and that might also be a time-consuming task. However, if the steel plates are weldable then they would be easy to work with, they would be easily customizable, and would be cost-effective choices. Although welding might impact the hardness of the steel and there might be a reduction in the hardness of the metal.
Ductility:
The steel plates must also have ductility, another important property that should not be ignored. The steel plates must have ductility, this would ensure that the plates will be able to withstand load or, pressure without developing any cracks. Talk to the mild steel plate suppliers, before buying and learn whether it has high ductility or, not. It would be deformed but would not break and that would make the structure secure and strong. The ductility of steel is again a property that would vary from one steel variant to the other. The composition of each steel variant would be different and the ductility would depend largely on that. Therefore, before choosing your steel plates, you have to pay attention to the variant you are getting. Depending upon your specific project you should choose the steel variant, and also learn about the chequered plate price in Chennai.
The above mentioned pointers are what you must keep in mind while selecting the steel plates for your project. Keep you project requirement in mind to decide which steel variant you should be using and that would help you choose the right grade as well. Always prioritize quality, and get all your steel products from the top steel dealers in Chennai.
ALSO, YOU CAN READ OUR NEW UPDATES